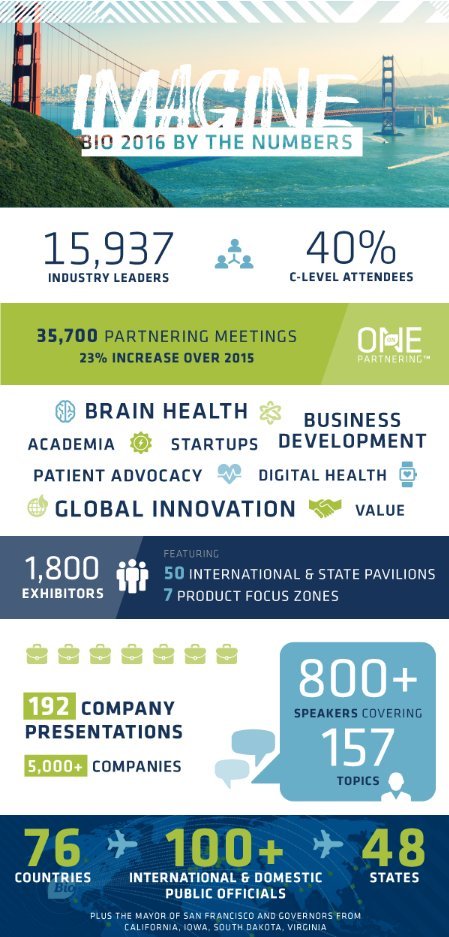 The BIO International Convention 2016 attracted 15,937 biotechnology and pharma leaders, who came together for one week of intensive networking, to discover new opportunities and promising partnerships.
The annual conference is organized by BIO (Biotechnology Innovation Organization), the world's largest biotechnology trade association, and this year it took place on June 6-9th, in San Francisco. Almost 36,000 partnering meetings made by 5,000 companies; 192 company presentations and more than 800 speakers covering 157 topics; 1,800 exhibitors held 50 international and state pavilions, are a few numbers that shows the success of the Convention.
The Brazilian Pavilion, organized by Abiquifi and Apex-Brasil, through the Project "Brazilian Pharma Solutions", highlighted brazilian companies and institutions in the international scenario, with an agenda focused in offering and bringing technology, products and services. Biominas Brasil was represented by its CEO Eduardo Emrich Soares. The pavilion was also home for an important team of government officials using the space for meetings with international agencies, governments and companies. The full program of the brazilian delegation could be seen here.
The next conference to explore the innovation and partnering opportunities in the life science industry is the BIO Latin America Conference. Co-hosted by BIO and Biominas Brasil, the BIO Latin America will be held on October 26-28 – 2016, in São Paulo (Brazil). The Conference stands as a must-attend annual event for those who do or aim in doing business in Latin American region.
For more information, access: www.bio.org/latinamerica
Join the conversation: #BLA2016 |  LinkedIn Group |  LinkedIn Page